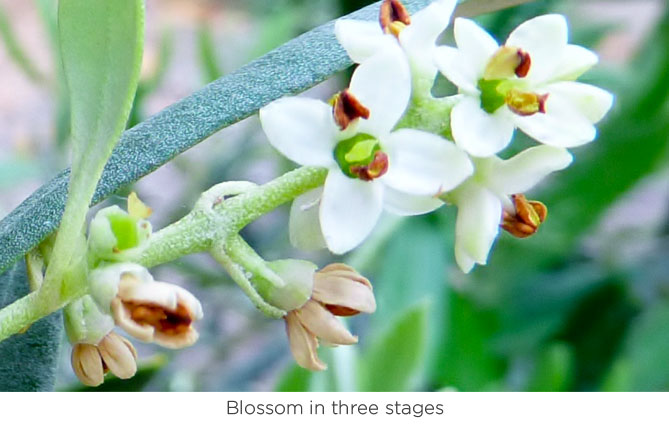 Andante Extra Virgin Olive Oil is produced from olives grown on the Wêreldsgeluk Olive Estate near Porterville in the Western Cape Province of South Africa.  It is marketed by Porterville Olives (Pty) Ltd. The farm is situated in the Western foothills of the Winterhoek mountain range, about 130 km North-East of Cape Town. The name Wêreldsgeluk means 'earthly joy' in Afrikaans.
Our Extra Virgin Olive Oil
Andante achieved wonderful success in 2013. The crowning achievement was that two of our oils, Andante Intenso and Andante Forte received Absa Top Five Awards.
All four Andante extra virgin olive oils – the Intenso, Forte, Medium and Delicate – were awarded Gold at the SA Olive awards, and all four were amongst the 20 nominees for the Absa Top Five Award.
In March 2013 the Andante Forte received Silver at the New York International Extra Virgin Olive Oil Awards, and the Intenso received the Gran Menzione at the Il Magnifico competition in Tuscany.
Andante and Wêreldsgeluk Olive Estate were both included in the Flos Olei 2013, the Italian guide to the world's best olive oils.
In 2011 and 2012 Andante Intenso, a robust monovarietal Nocellara del Belice, was awarded GOLD and Best of Class at the prestigious Los Angeles International Olive Oil 
Competition
. This is reputed to be the most prestigious extra virgin olive oil competition in the world, with more than 640 entrants.
In 2011 the Andante medium and 'Limited Edition Delicate' received GOLD at the South African Olive awards. Also in 2011 Andante medium received the winning GOLD award and the prestigious Consumers' Choice at the Marco Zichella Awards.
The 2010 delicate blend of Andante received GOLD at the SA Olive Awards and the 2010 and 2012 medium intensity blend highly meritorious SILVER.
The first release of Andante Extra Virgin Olive Oil in 2009 achieved the SA Olive commitment to compliance quality standard seal.
All Andante oils are stored in controlled temperature conditions in stainless steel tanks under nitrogen and bottled on demand to combat oxidisation.
Andante at Savantes, New York 2012
Three Andante extra virgin olive oils were tasted and evaluated at Savantes® in New York in September 2012. They were the Andante Intenso, Andante Forte and medium intensity Andante. Here are the tasting notes from that event: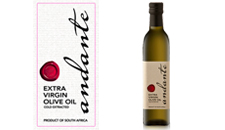 Brand: Andante
Packaging: Standard
Style: Medium/Robust
Flavour: Intense aromas of green herbs, roast tomatoes and banana. Bitter greens such as chicory and raddiccio and medium lingering chilli spiciness on the back palate and then moving forward. A nutty aftertaste. Balanced, harmonious and complex.
Culinary evaluation: Culinary application across medium and strong tasting dishes. Will be excellent with tomato based cuisine and bean and leaf-based salads, red and white meats, sauces, in baking, desserts and with cheeses such as ricotta.
Additional comments: Described by one experienced taster as 'something luscious happening in my mouth'.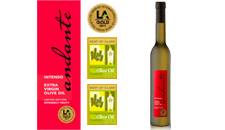 Brand:  Andante Intenso
Packaging: Tall bottle
Style: Medium/Robust
Flavour: Aromas of roast tomatoes, green herbs, mint, underlying honey. Tastes of lightly steamed cabbage with tingling chilli heat on the back palate. Some bitterness with tannic spinach and a long walnut finish. Complex, balanced and harmonious.
Culinary evaluation: Culinary application across medium and strong tasting dishes. Will be excellent with tomato based cuisine and bean and leaf-based salads, red and white meats, sauces, in baking, desserts and with cheeses such as ricotta. An excellent boutique olive oil.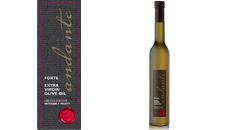 Brand:  Andante Forte
Packaging: Tall bottle
Style: Medium
Flavour: Aromas of green apple and honeydew melon. Tastes of creamy green bananas with the pepperiness of mustard leaves and bitterness of arugula. Balanced and harmonious.
Culinary evaluation: Culinary application with dishes of less robust flavours such as fish, light salads, desserts, white meat, risotto and pasta."
Our Flavoured oils
Our three flavoured oils are made by crushing unwaxed citrus fruit or zest with the olives, resulting in a harmonious blend of the freshly extracted olive and citrus oils.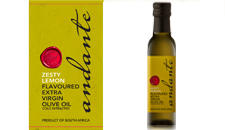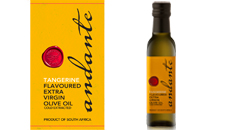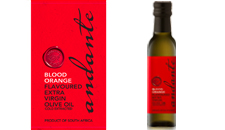 Our Technology
Andante is made with a two-phase Italian Oliomio press from Toscana Enologica Mori, which has a capacity of 1500 kg of olives per hour. We process up to 15 tons per day. At an average extraction of about 18% that gives us around 2700 litres of oil per day.
Our Farming Practices
Our first trees were planted in March 2006, and we now have 31,89 hectares under cultivation in an intensive system, with about 34 000 trees of 7 cultivars.
We strive to implement biological farming practices, a combination of the best organic and scientific methods. We use mulches and natural compost as much as we can to promote micro-organisms and soil health.  For pest control we use an integrated pest management (IPM) approach. Pest populations (of which we fortunately do not have many) are monitored and we rely on natural predators rather than chemicals for control. Irrigation is by drippers to minimise evaporation and use water optimally.
The enterprise is committed to ethical consumption. This means that we source goods and services locally as far as we can, treat our workers fairly, strive for their personal, social and economic advancement, limit our carbon footprint, and support others that do the same. We strive to produce our oil and olives with minimum impact on the environment and no exploitation of humans or animals.
We hope that all who enjoy any of our Andante Extra Virgin Olive Oils will find something in them that reminds them of the wonderful gifts of the earth and captured sunshine. Because we believe that is where it all begins. Add wind, stones, silence, solitude, water when needed, and a good deal of patience. The result is the blessing that is extra virgin olive oil.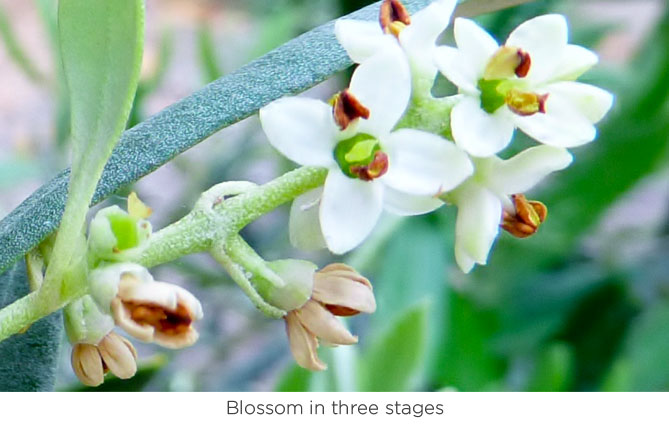 Table Olives
On Wêreldsgeluk we produce green and black table olives. For the green we use the Nocellara del Belice cultivar from Sicily. The black olives are the premium Greek Kalamata cultivar.
The process requires the largest part of the bitterness of the raw olives to be removed, and fermentation to convert certain of the sugars and fruit acids into lactic acid. Our process involves only curing whole olives in a natural brine solution for 6 to 8 months. We do not use environmentally troublesome lye solutions to de-bitter our olives.  Nor do we cut our olives. We let the natural process take its time.